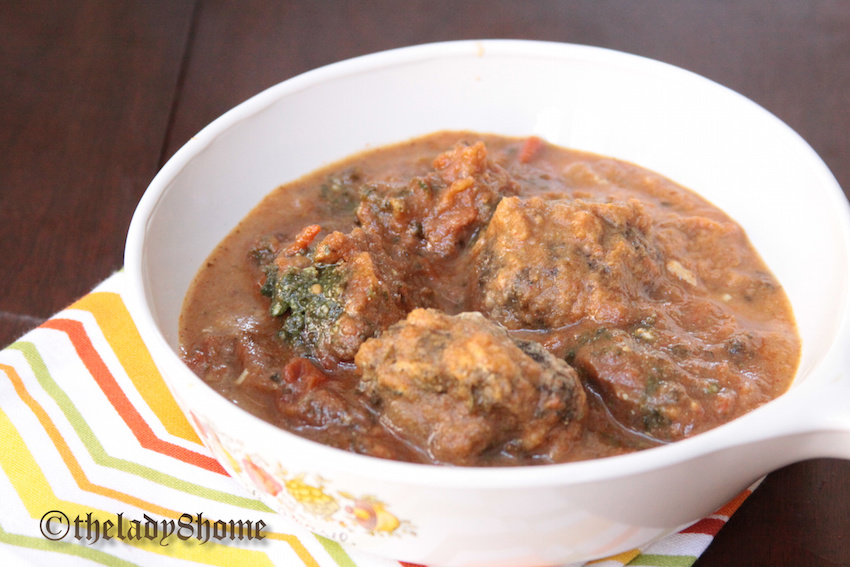 Junior has signed up for drama club and the first play he is doing is the timeless Wizard of Oz. He is quite proud on having been selected and is pretty sincere on attending all the rehearsals.
He plays a monkey.
Well, it's better than playing a tree, he explains.
So he has been going to all the rehearsals only to realize he is not needed in them. Then he gets totally confused and misses the rehearsals that he is needed in. So his teacher writes to me that unless he attends the upcoming rehearsals this week, he will be out. So he now knows which ones he does need to attend. At least for this week.
Talk about real drama.
The dish I am posting today can also look a bit dramatic. It's got all the good of greens hiding a delicious core of crumbled Indian cottage cheese or paneer as we know it.
Its called Shyam Savera. Translated: Evening Morning.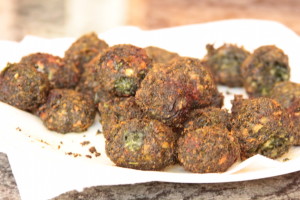 You can have the stuffed balls as a tea time snack. Goes really well with some plain old tomato ketchup. Else, make a gravy and it becomes a full comfort meal.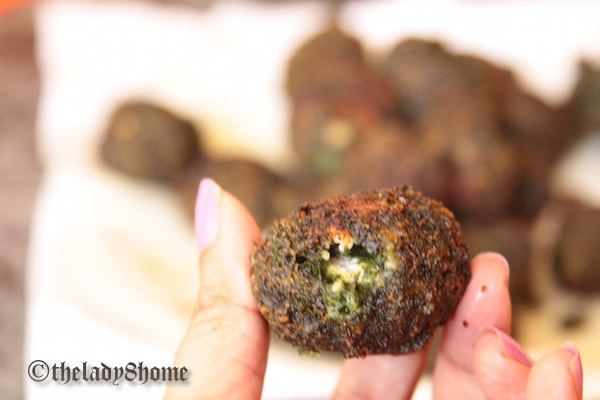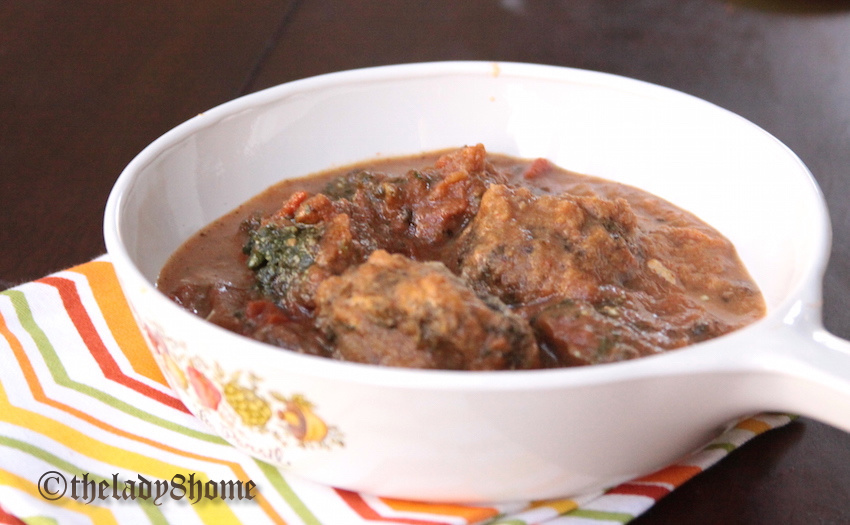 You can deep fry the balls, but often, I prefer shallow frying them. For this one, I deep fried them.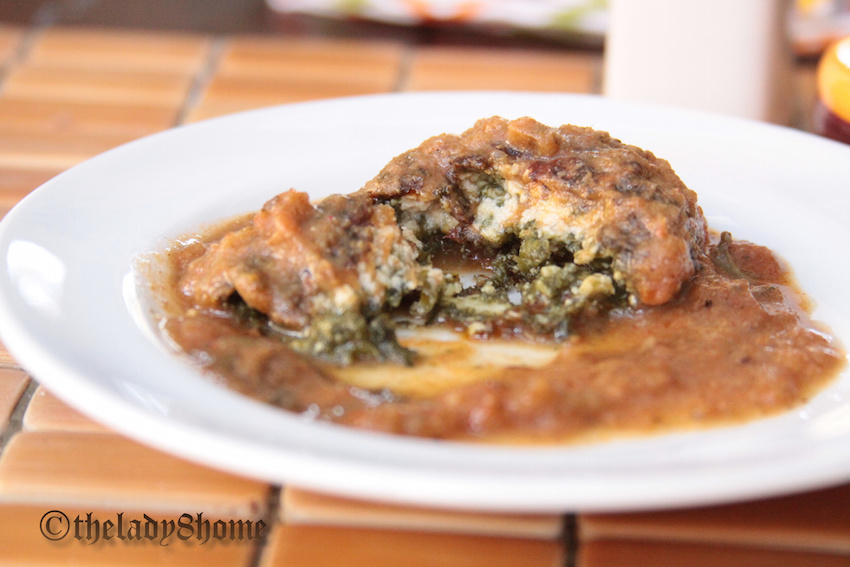 Spinach cheese balls curry
Succulent cheese filled spinach balls in creamy gravy
Ingredients
For the spinach balls
4-5 c packed baby spinach, washed, steamed,pureed, refrigerated.
¼ cup besan (gram flour)
2 cups of freshly made paneer
handful of finely chopped cilantro
4 thai green chilies
salt to taste
---
For the gravy:
2 cups finely chopped onions
1 cup finely chopped tomatoes
¼ tsp cumin seeds
1 tsp coriander powder
1 tsp red chili powder
1 tsp garam masala powder
1 cup whipped yogurt
2 tbsp cream
oil
Instructions
Make the balls:
Mix the besan (gram flour), spinach puree, salt, ½ cup paneer: Make a dough. Divide into 1-1/2 inch diameter balls, refrigerate for 24 hours, covered.
Mash cheese with fork and mix cilantro, chili, salt.
Stuff ½ tsp cheese into the spinach balls, rolls once more and refrigerate for 2 hours.
Shallow fry in oil.
-
For the gravy:
Heat Oil, season with cumin seeds, and once they splatter, add onions.
As the onions soften, add tomatoes.
Add coriander powder, red chili powder, garam masala powder
Slowly add the yogurt. Mix well.
Once the yogurt blends in, add one cup of water, bring to a boil, and then simmer till oil leaves sides. The consistency should be creamy.
Gently add the spinach balls, spooning the gravy over them to completely cover green orbs of spinach.
Garnish with cream and finely chopped cilantro.
Note:
To make fresh paneer, heat 1 gallon of milk. Once it comes to boil, add ¼ cup white vinegar. Strain in a cheese cloth over a colander. Yeild about 3 cups of fresh cheese/paneer.
Blanch the spinach in boiling water, then dip it in chilled water to retain the color of the spinach.