I have just started Instagramming. For someone who is social media savvy, I am quite a slouch when it comes to using visual platforms. I'm learning.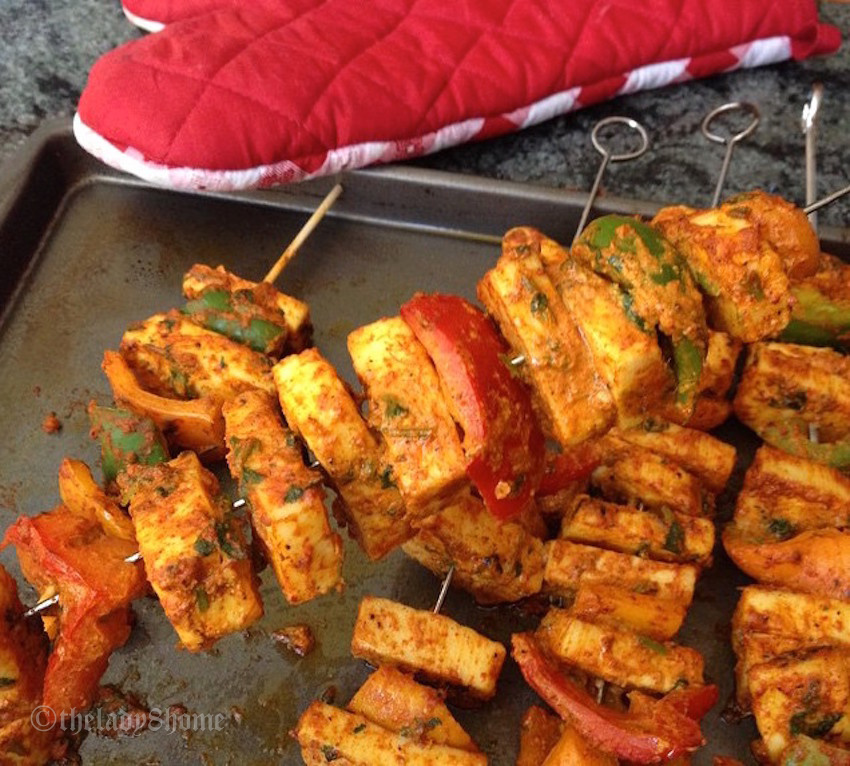 One of the pictures (the one above) that became an instant hit was a paneer tikka I had cooked a few days ago.
Paneer Tikka is a vegetarian take off from its more popular cousin Chicken Tikka, but Paneer Tikka has its own fan following, and just not amongst the vegetarian crowd.
One thing to remember about paneer is that over cooking will make it hard. To keep it soft and spongy, immerse in warm water until you are ready to cook it. That will help keep it moist. Then before slicing it, dry it thoroughly with paper towel.
Also, make sure that the grill is hot, and evenly heated. Paneer cooks quickly, and too much flame can ruin it, and uneven heat can leave it under cooked from inside.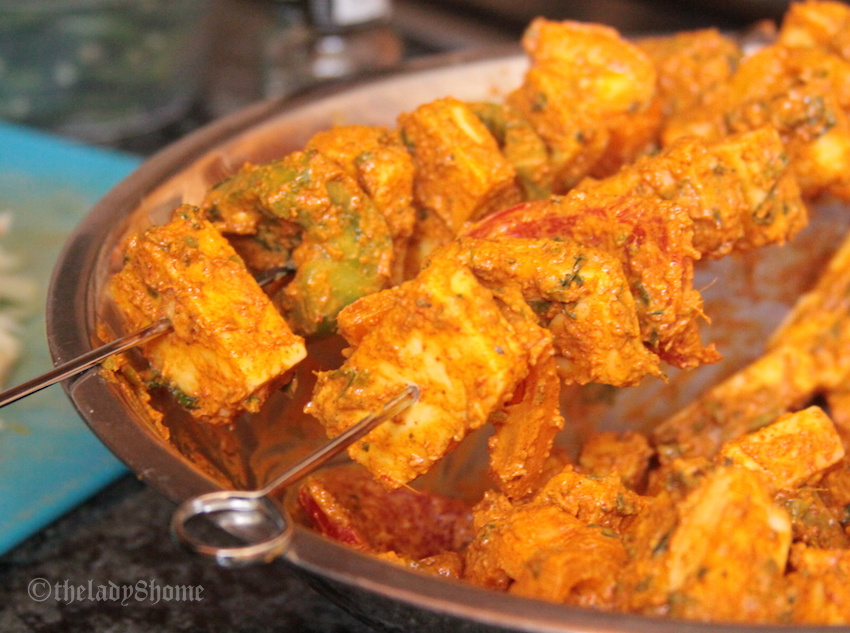 You can buy paneer blocks from any Indian store near you.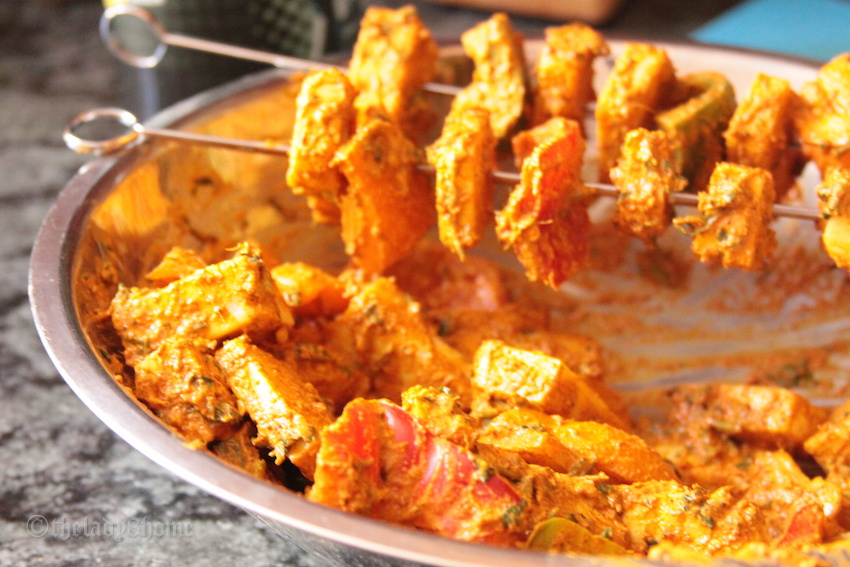 So as promised, here is the recipe.

Paneer tikka lababdar
Author:
Minnie@thelady8home
Ingredients
250 grams of paneer cubed 1" X ½" X ½" thick
2 cups assorted red, green, yellow, orange bell peppers cut into 2" pieces
Marination
Juice of one Lemon
1 tbsp Ginger Garlic Paste
1 heaped tsp Turmeric Powder
1 heaped tsp Chilli Powder
1 heaped tsp Chaat Masala
½ tbsp Amchur powder
1 Tbsp Tandoori Masala (any tandoori masala will do. I used Shan's tandoori chicken masala)
1 Tbsp Kasoori Methi crushed well
½ cup Coriander leaves finely chopped
¼ tsp salt
dash of freshly cracked pepper Pepper
1 tsp vinegar
1 cup hung Yogurt whipped
¼th cup heavy cream
1 tsp olive oil
½ cup melted Butter to baste
Skewers soaked in water for 15 minutes.
Instructions
Squeeze lemon juice over the paneer and let it sit for 15 minutes.
Mix all the marination ingredients, except for butter, together in a large box or ziploc.
Fold in the paneer and the peppers
Let the marinated paneer and peppers sit in the refrigerator for two hours to overnight. (6-8 hours is ideal, but if your short on time, two will do).
Soak the skewers in water for 15-20 minutes.
Thread the paneer and the capsicums in the skewers.
Brush the melted butter generously over the skewers.
Heat the over at 450º F
Bake for 10 minutes.
Take out and turn the skewers over, baste with rest of the butter.
Bake for another 10 minutes.
For the grill, wrap in foil and grill for 10 minutes, then grill without for another five, basting with butter to retain the moisture. Avoid direct flames.