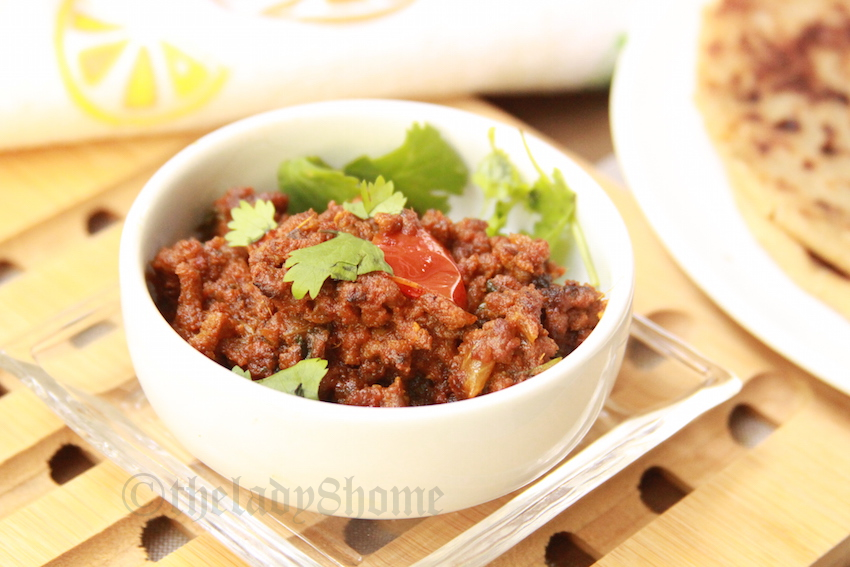 The dusty roads of India might make you think twice about stopping at the road side eateries that punctuate the bustling landscape. These small road side eateries are known as 'dhabba'. Don't get fooled by their unsophisticated veneer. More often than not, the hot piping food that they serve is unmatched in taste and texture, and made from local produce that are procured locally.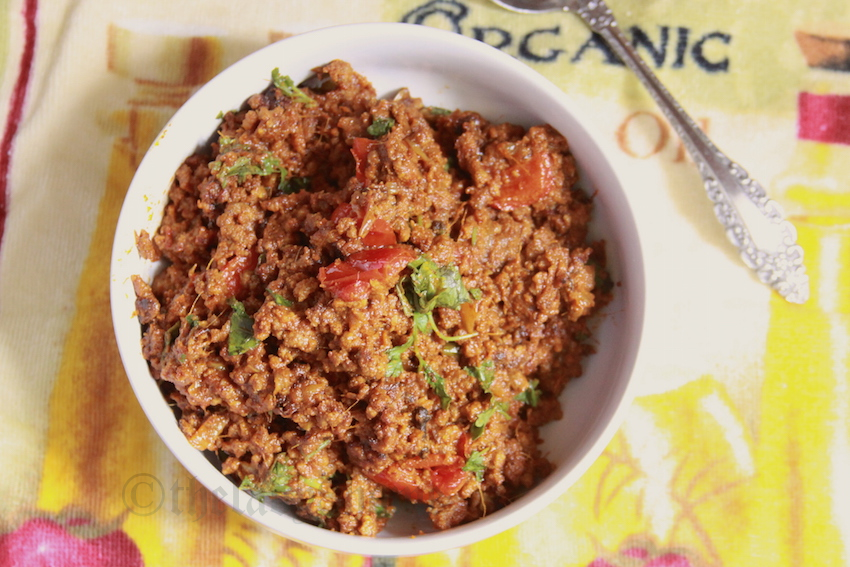 The five star chefs with degrees from fancy culinary schools might spend copious amount of time trying to replicate a dish turned out at an obscure dhaba in a remote area of the country. Sometimes they are successful, at others, not so much.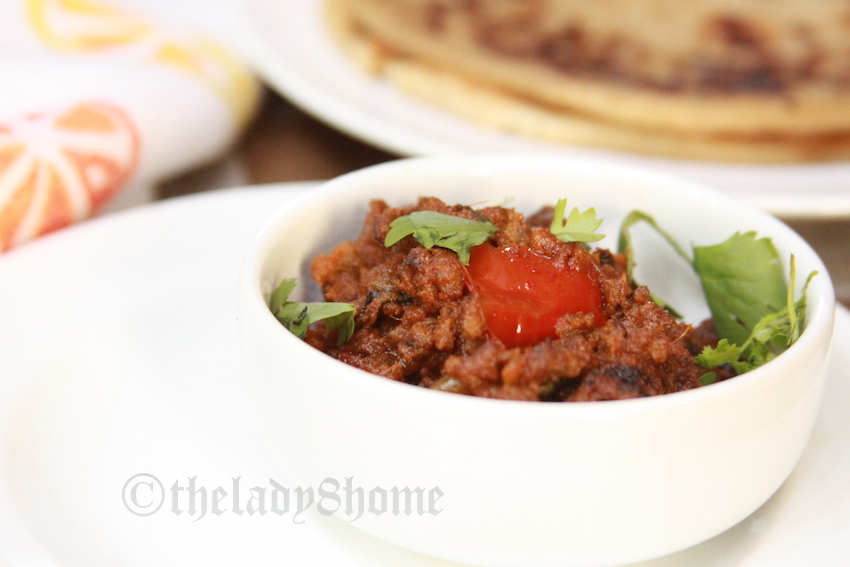 A few years ago, a Hindi comedy film had a plot line where a prodigal son tries to find out the secret behind his father's famous chicken recipe that made their 'dhaba' renowned throughout the country. No one knew the secret ingredient. In the end, he finally discovered it, though by accident. It was something no one could imagine…..cannabis!
Today's dhaba recipe that I have has nothing so dramatic to offer. I have been looking for a spicy, tangy keema – minced goat/lamb meat – recipe for a while. I came across Aditya Bal's recipe the other day and decided to give it a try. I did end up making some adjustments as I realized my taste buds call for stronger savory flavors.
I remembered to get the step by step pictures too!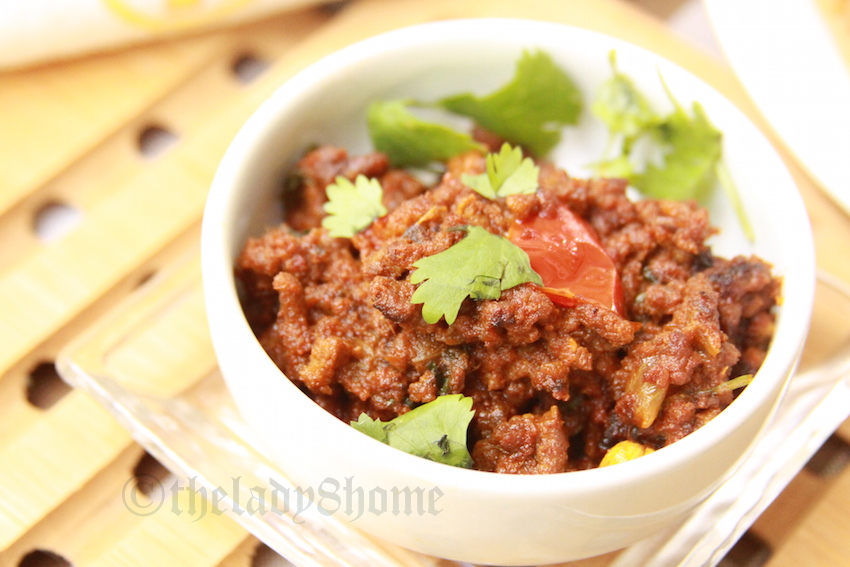 Dhaba style keema
Author:
Recipe adapted from Aditya Bal
Ingredients
1 lbs minced goat/lamb meat boneless
2 Tbsp oil
to season
bay leaf
4 green cardamom
1 tsp cumin seeds
5 cloves
Rest of the ingredients
3 medium sized onions, finely chopped
2 Tbsp garlic paste
1 Tbsp ginger paste
1 Tbsp butter
2 green chilli, finely chopped (for cooking) + 1 green chilli, split (to garnish)
½ red bell, chopped
1½ tsp turmeric
2 tsp red chilli powder (adjust to taste)
2 tsp cumin powder
2 tsp coriander powder
Salt, to taste
Hing (asafetida), a pinch
3-4 Tbsp milk
1 cup tomato puree (you can use store bough)
1 tsp sugar
Juice of ½ lemon
Water
Coriander leaves, chopped
Instructions
In a pan add oil, bay leaf, green cardamom, cumin and cloves.
As the aroma rises, add chopped onions. Saute till golden brown. Discard the bay leaf.
Add garlic, ginger and butter, stirring frequently.
Add the green chillies and red cubed bell pepper and saute for 3-4 minutes. De glaze the pan with some water.
Now add the masalas: turmeric powder, red chilli powder, cumin powder, coriander powder, asafetida and salt. Keep sauting.
Add the goat/lamb mince. Saute for 3-4 minutes. Add milk and mix well.
Add the tomato puree, sugar and lemon juice. Cook for 10 minutes on medium flame. Stir and mix well to prevent the meat from sticking to the pan.
Add 1 cup water. Cover and cook on low for 5 minutes, then saute on medium flame till the water evaporates and the mutton is well done.
Garnish with chopped coriander leaves, split green chilli and a blob of butter (optional).
Serve with hot roti and a side of dal.